Conservation Achievement Award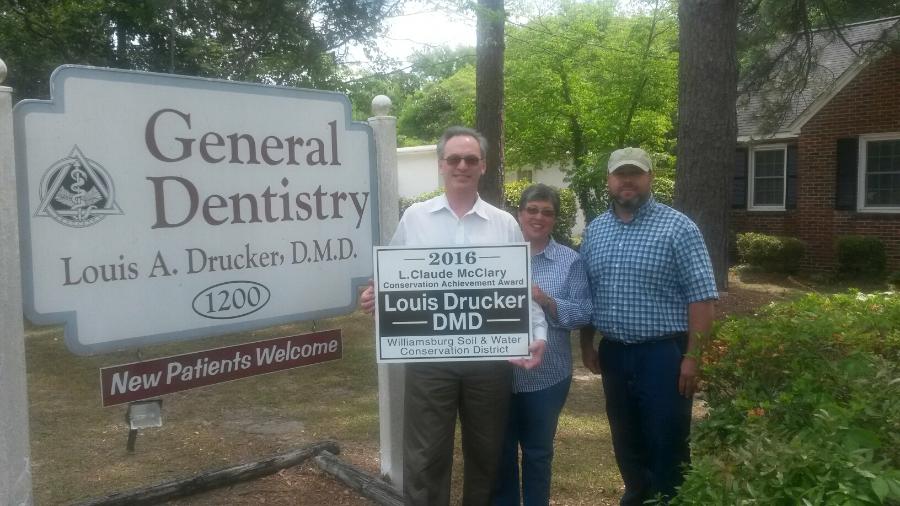 Dr. Louis Drucker is presented with the L. Claude McClary Conservation Achievement Award
by District Board members Frances McClary and Brian McClam.

The Williamsburg Soil and Water Conservation District awards the L. Claude McClary Conservation Achievement Award to honor Mr. Claude for his many years of dedicated service to the conservation community and to recognize individuals or businesses which make a significant contribution to conservation efforts.
Dr. Louis Drucker DMD is the 2016 recipient. He is being recognized for his conservation efforts and stewardship of the Scenic Black River. Dr. Drucker introduced paddle sports to the Black River through his generous efforts with Wildlife Action, where he supplied the canoes and all the necessary equipment and guided novice paddlers. He has arranged access, put ins, take outs and transportation for over 20 years. Many locals enjoy kayaking on Black River because of Dr. Drucker's selfless efforts to keep the channels clear and information flowing along Black River.
Dr. Drucker practices general dentistry in Kingstree. He is a lifelong resident of Williamsburg County, where he graduated as a Boll Weevil from Kingstree High School. He attended Clemson University, Frances Marion University, and the Medical University of South Carolina. Dr. Drucker serves on the Scenic Black River Advisory Commission and is active in the Kingstree Lions Club and Wildlife Action.
He spends a great deal of time on the Black River and enjoys taking care of it. Because of his love for the Black River and his tireless efforts to educate others about it; Dr. Drucker is deserving of the 2016 L. Claude McClary Conservation Achievement Award.