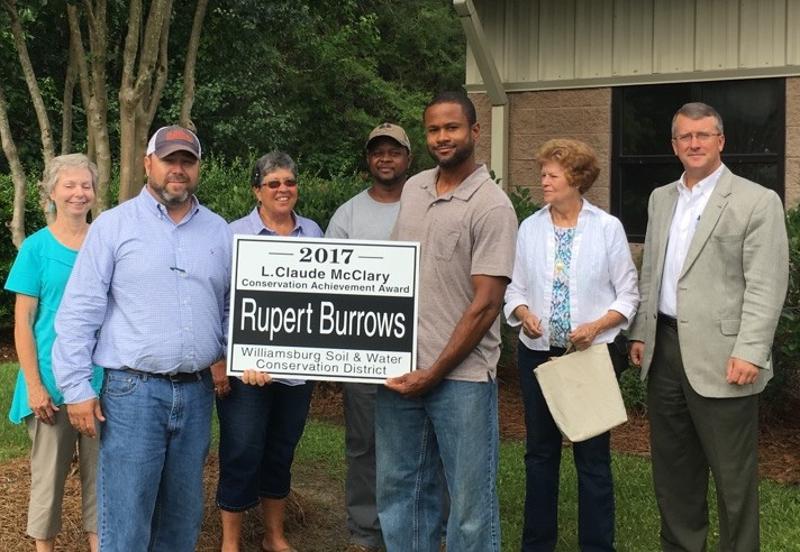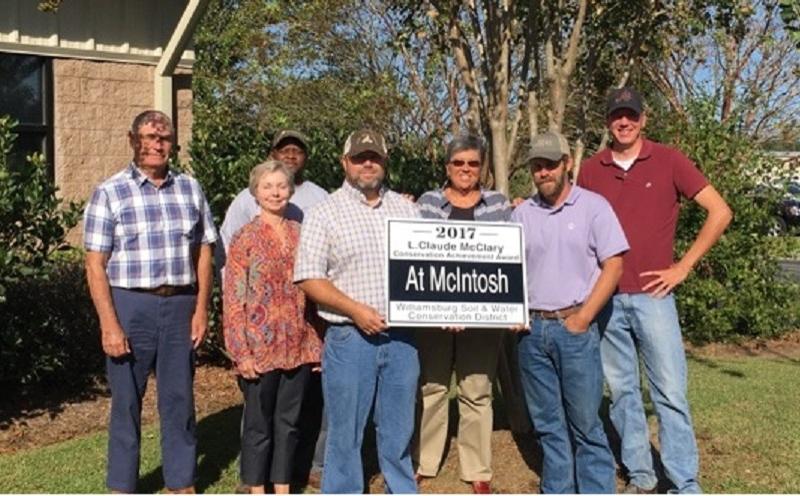 Conservation Achievement Award recipients, Rupert Burrows and At McIntosh, are presented with their awards by Williamsburg Conservation District Chairman, Brian McClam, and members of the Board of Commissioners.
L. Claude McClary

Conservation Achievement Award
The Williamsburg Soil and Water Conservation District annually awards the L. Claude McClary, Conservation Achievement Award. It was named to honor Mr. Claude McClary for his many years of dedicated service to the Conservation District. The award is to recognize individuals or business which make a significant contribution to conservation efforts.
This year the award will be given to two individuals because of their significant influence in the community and conservation efforts. The recipients are At McIntosh and Rupert Burrows.
At McIntosh grew up on the farm and became a farmer at a young age. In 2005 he graduated from Francis Marion University with a Masters in Business Administration. After graduation he returned home and began farming full time. He grows corn, cotton and peanuts in the Workman community where his family has been farming for eight generations.
In 2014 he combined his business knowledge with his love of farming and started his company, Homegrown Cotton. At wanted a business that reflected how locally grown cotton could be used to produce a high quality product. From the field to your home, the polo shirts are ginned, spun, dyed, knitted, cut and sewn by local businesses in the Carolina's, with the final shirt completed within 40 miles of the farm.
At's company is a great example of the many aspects of the ag industry, the opportunities and contributions of keeping it local, and the conservation benefits it provides.
Rupert Burrows, grew up on the family farm, but branched out and began farming on his own in 1998. He attended North Carolina Agricultural & Technical State University where he studied agronomy and plant science, which fed his interest in soils and changed the way he farmed.
Rupert plants a rotation of corn, soybeans and wheat. Three years ago he added cover crops to his crop rotation, and is also participating in the Soil Health Initiative Research Project to track the benefits of his conservation practices with the addition of cover crops and conservation tillage.
Rupert is a great promoter of soil health and the benefits of cover crops. He participated in a recent workshop sponsored by the Conservation District and has introduced several farmers to cover crops by sharing his experiences. He is always looking for ways to improve his farm.